While Google is the most dominant search engine overall, Amazon is finding its niche along the search giant as the preferred search engine for non-branded product search. This means Amazon is the leading digital platform for appealing to customers who do not have your brand in mind when shopping.
The two search engines are designed to answer different questions. For example, Google search seeks to answer the question, "What results most accurately answer the searcher's query?" Whereas, Amazon search seeks to answer the question, "What product is the searcher most likely to buy?"
On Amazon, people aren't asking questions, they're searching for products—and what's more, they're ready to purchase. So, while Google is more like a psychiatrist honing an algorithm that aims to understand the nuances of human language, Amazon is more like a personal shopping assistant that aims to understand searches just enough to rank products based on their propensity to sell.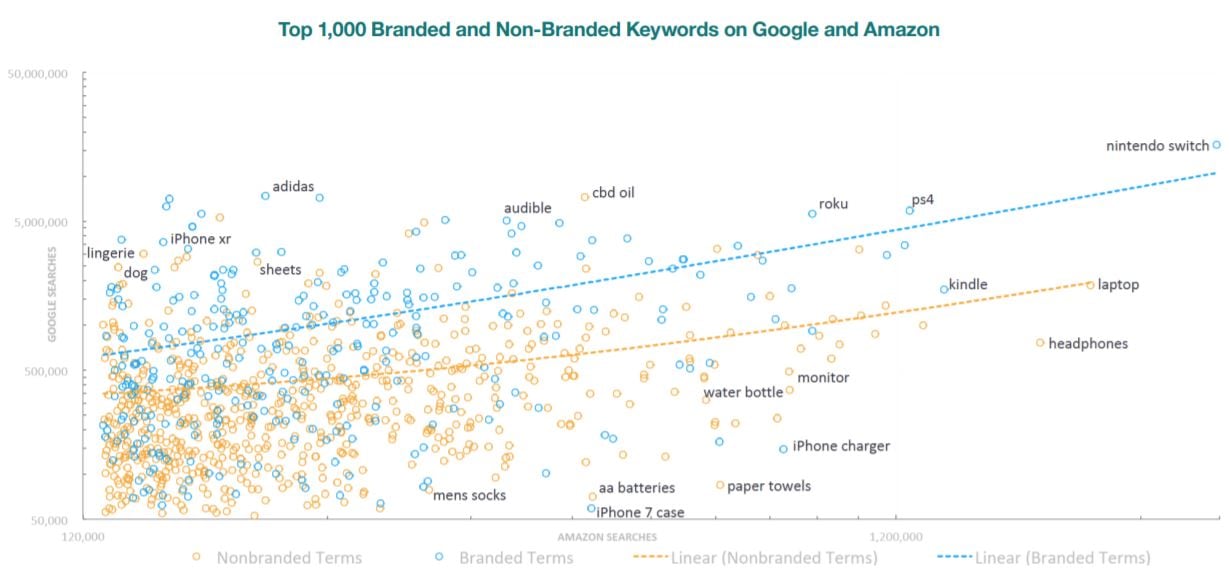 This chart from a 2019 Jumpshot study shows how Google and Amazon perform for the top 1000 branded and non-branded keywords. Branded search terms (adidas) had higher volume on Google while non-branded search terms (headphones) had higher search volume on Amazon.
They summarized their findings this way, "On Amazon, consumers are attempting to fit a specific need, often one that is functional and practical. On Google, search helps customers learn about products in ways they cannot with ratings and reviews, and may be unrelated to a purchase at all."
Our experience with building Amazon content to feature functional and practical application aligns with this research. Adding features and benefits to the product title is the most critical component for appealing to brand-agnostic customers in Amazon's search results.
In 2017, we formed a retailing and agency partnership with a company that sells garage storage hoists. Their best-selling hoist is for storing Jeep hard-tops on the garage ceiling. When we took over the listing, the title was "Harken Jeep Hoister". After some keyword and competitive research, our revised title was "Harken Jeep Hardtop Garage Storage Hoist with Bonus 6 T Knobs for Quick Hardtop Removal | Lifts Evenly with 6:1 Mechanical Advantage | Safe for One-Person Operation | Organize Your Garage". Within a year, sales improved 10x without the brand investing in pushing the product outside of Amazon. We attribute this growth to optimizing the listing, starting with the title, and a modest advertising budget.
More frequently, we work with brands who desire their Amazon listings to be homogenous with their brands' website. This means basic, uniform titles, with few features and benefits. For example, "Nike Freerun 5.0 Mens Shoe." For brands with large catalogs, achieving catalog consistency is a great first step. However, without building Amazon listings with brand-agnostic customers in mind by calling out the functional and practical differentiators of each product, most Amazon customers will be a missed opportunity.
This is more relevant for products in categories with a high percentage of digital transactions coming from Amazon. Most categories see 65% or more of their digital transactions coming from Amazon.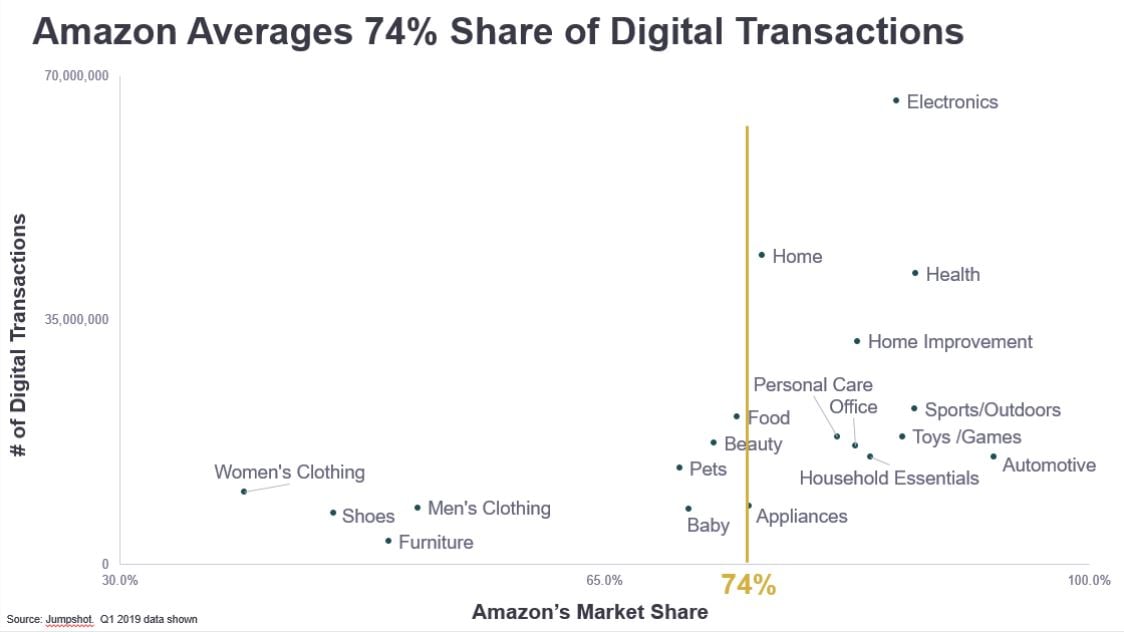 Your Amazon listings should also appear in Google search results (a lot)
Did you know Amazon received about 45% of its traffic in 2019 from Google referrals? Amazon ranks organically well on Google, AND they invest heavily in paid ads to appear near the top of search results. I've often thought this is one of the greatest unsung advantages of selling on Amazon. Amazon is buying Google ads on your behalf! And the better your product sells on Amazon, the more likely Amazon is to increase its aggressiveness on Google ads. This can lead to exponential increases in sales through the Amazon channel, and we have been fortunate to see this happen several times over.
Obviously, we don't want to rely only on Amazon buying Google ads, so organic ranking also matters. Since we established at the beginning of this blog that Google is best suited for branded search, having your brand name in an Amazon listing will help it to rank organically on Google for branded searches. Almost every brand already does this whether the listing was created by a teenager or a professional agency. So the real added benefit comes from adding functional and practical features and benefits to the Amazon title to help the product stand out to Amazon shoppers who do not have brand affinity.
---
Other posts for further learning on this topic: