You might remember the 2016 study by Bloomreach that claimed 55% of all product searches start on Amazon. If you are in Amazon circles, there's no doubt you've heard the 55% number thrown around. The news shocked the retail world because it challenged the common conception that search engines, namely Google, dominated product search.
Most people were skeptical of these findings (including me). But I couldn't help but thinking, "Even if these findings were inflated a bit, they are probably directionally correct." If over half of search starts on Amazon but only 5% of retail sales occur on Amazon, then Amazon is much more impactful as a marketing channel than a sales channel.
---
"Amazon is much more impactful as a marketing channel than a sales channel"
---
This was the seed that led me to launch our Amazon agency.
Naturally, I have followed these studies since the 2016 Bloomreach study. All are asking essentially the same question, "Where would you go digitally when searching for an item?" Here's how they shake out:
2015 by Jumpshot: Amazon 46%, Google 54%
2018 by Adeptmind: Amazon 47%, Google 35%.
2018 by Jumpshot: Amazon 54%, Google 46%
2019 by Civic Science: Amazon 49%, Google 22%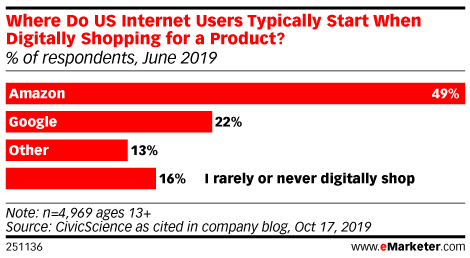 After several studies by different firms, it turns out, "about half" of product search starting on Amazon still highly accurate.
With each passing year, as more consumers start their product research online instead of a store, "half" of online search becomes more and more impactful to all sales channels.
NOW WHAT?
As I speak with brands about these findings, here are the questions I think are important to determine what to do next:
What would you do differently if you believed that Amazon were your most concentrated marketing channel (because it is)?
What is the brand experience like for customers who search your brand and click into your listings on Amazon?
How does your brand show up in search results for customers who are researching products through non-branded search terms on Amazon?
There are two main shifts taking place when it comes to Amazon strategy.
First strategy shift: Use Amazon advertising to reach customers at all phases of the buying process
Since customers are using Amazon for product research, and Amazon is dominating Google in non-branded search, at least one of your goals for Amazon advertising should be new customer acquisition.
That means ad strategies for campaigns with non-branded terms that have different ROI goals than low-funnel campaigns.
I believe the reason that Amazon's DSP ad revenue is their fastest growing ad segment is because marketers are picking up on this and using DSP to target customers higher in the marketing funnel.
Second strategy shift: Ensure product listings on Amazon are beautifully on-brand and optimized for search.
AT&T has a campaign right now that uses the slogan "Just okay is not okay." The same can be said about Amazon listings. On average, brands will get 10x more traffic on Amazon than their company website.
Brands need to approach the front end of Amazon listings with the same conviction that they do about the front end of their brand's website. Optically, listings should be on-brand.
Similarly, brands need to approach the back end of Amazon listings with the same conviction that they do about the back end of their brand's website—that is, how it is optimized for search. Lest we forget, the engine that moves Amazon is their algorithm.
---
Other posts for further learning on this topic:
Amazon Dominates Google in Non-Branded Search. Here are the Implications for Brands.
In-house or Outsource: 5 Criteria to Choose the Right Catalog Management Solution for Your Brand
Amazon Advertising: How Brands Should Think About, Manage, and Fund Advertising on Amazon